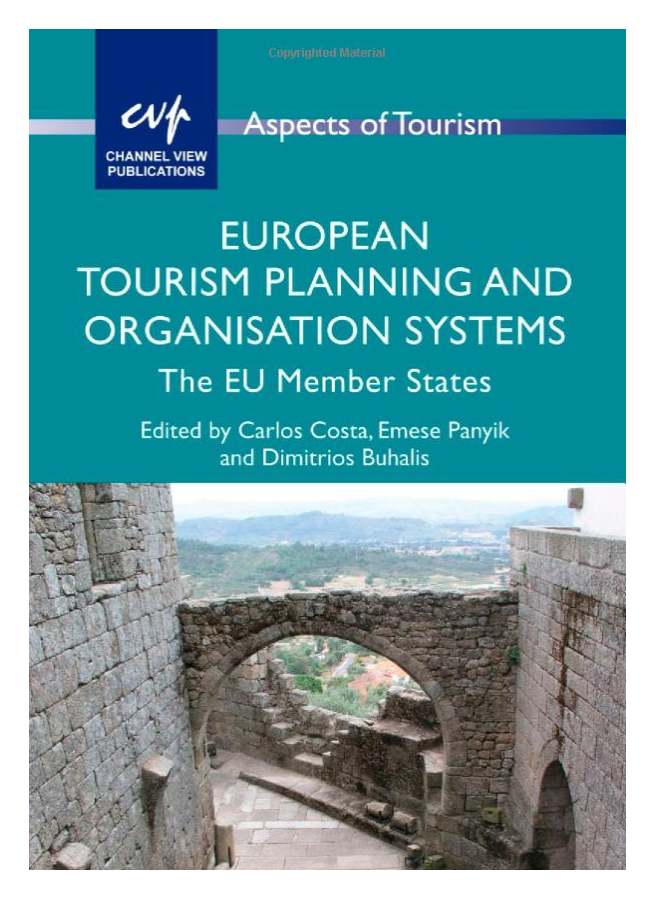 by
buhalisadmin
EUROPEAN TOURISM PLANNING AND ORGANISATION SYSTEMS: The EU Member States
Editor Information
Carlos Costa is Full Professor at the University of Aveiro and Editor of the Journal of Tourism & Development (Revista de Turismo e Desenvolvimento). His main research interests are tourism planning and management, organisations, networks, gender in tourism and tourism education.
Emese Panyik is Assistant Professor of Tourism at the Catholic University of Portugal (UCP), Braga Regional Centre. Her research interests include strategic tourism planning and management, rural governance, EU tourism policy, local policymaking and partnerships and host community impacts of tourism.
Dimitrios Buhalis is Professor of eTourism and Director of eTourism Lab at Bournemouth University. His research focuses on strategic management and marketing, tourism marketing, technology and eTourism.
Contents
1. Carlos Costa, Emese Panyik and Dimitrios Buhalis: A Comparative Approach to European Tourism Planning and Organisation Systems: An Introduction
SECTION 1. NORTHERN EUROPE
2. Janne J Liburd and Peter Saabye Simonsen: Tourism in Denmark – from Ugly Duckling to Our Journey;
3. Steven Richards and Keith Wilkes: Tourism in England: London 2012 Olympic Games and Beyond;
4. Seppo K. Aho: Finland Tourism Policies – From Helping to Build New State Identities to Branding a Modern Specific Destination;
5. Denis Harrington, Anthony Foley and Tony Lenehan: Tourism Research, Policy and Practice in Ireland – Current Developments and Future Research Trajectories;
6. Tommy D. Andersson: Tourism in Sweden – Between a Social Project and Business Development
SECTION 2. EASTERN EUROPE
7. Stanislav Ivanov and Miroslava Dimitrova: Managing Tourism in Bulgaria: Between 'Mission Impossible' and New Hope;
8. Heli Tooman and Heli Müristaja: Developing Estonia as a Positively Surprising Tourist Destination;
9. Iveta Druva-Druvaskalne and Agita Līviņa: Tourism in Latvia: From Fragmented Resorts of Russian Empire to a National Brand on International Level;
10. Ausrine Armaitiene and Renata Bertuzyte: Tourism Policy in Lithuania: Management of Permanent Transition;
11. Rodica Manuela Gogonea and Marian Zaharia: Tourism in Romania: From Centralized to Private Initiative, a Growth Path
SECTION 3. CENTRAL EUROPE
12. Roman Egger, Jutta Novak and Werner Taurer: Austria: Where Tourism has Tradition;
13. Jarmila Indrová and Zdenka Petrů: The Czech Republic – Destination in the Heart of Europe;
14. Judith Jochmann and Harald Pechlaner: Germany Tourism: Evolution, Structures, Challenges and Perspectives;
15. Emese Panyik and Tamara Rátz: Tourism Policy in Hungary: From Central Planning to Multi-level Destination Management;
16. Grzegorz Gołembski and Agnieszka Niezgoda: Organization of Tourism in Poland after Twenty Years of Systematic Changes; 17. Jana Kučerová and Tomáš Makovník: Tourism in Slovakia: "The Best Kept Secret in Europe"
SECTION 4. SOUTHERN EUROPE
18. Alexis Saveriades: Strategic Planning in National Tourism Organisations: The Case of Cyprus;
19. Paris Tsartas, Andreas Papatheodorou and Magdalini Vasileiou: Tourism Development and Policy in Greece;
20. Mara Manente and Valeria Minghetti: Tourism in Italy: "Work in Progress";
21. Heidi Pantzar and Emese Panyik: Tourism in Malta: From the Knights of St. John's to an Independent State;
22. Carlos Costa and Armando Luís Vieira: Tourism Planning and Organisation in Portugal;
23. Sonja Sibila Lebe: From Cheap Destination Image to Sophisticated Offer;
24. Josep A. Ivars Baidal: Spain: From the Mass Model to a New Tourism Economy
SECTION 5. WESTERN EUROPE
25. Anya Diekmann, Jeroen Bryon and Isabelle Cloquet: Explaining Tourism Governance in Belgium: Quite a Balancing Act;
26. Vincent Vlès, Emmanuelle Marcelpoil and Isabelle Frochot: Strengths and Paradoxes of French Tourism Planning;
27. Alan Clarke: Luxembourg: Quality is Key;
28. Jaap Lengkeek: Behind Windmills and Flower Bulbs: Tourism Policies in the Netherlands;
29. Carlos Costa, Emese Panyik and Dimitrios Buhalis: Towards an Emerging Planning and Organisational
Framework: Conclusions
Description
This book provides a systematic, country-by-country analysis of tourism policy, planning and organisation in the EU. It applies a conceptual framework to offer a new critical approach to comparative policy analysis in tourism in the EU.
Series: Aspects of Tourism
Format: 234 x 156 (R8vo) Pages: c. 512pp Pub Date: c. 15/05/2014
Hbk ISBN 9781845414337
Pbk ISBN 9781845414320
£109.95 / US$179.95 / CAN$179.95 / €129.95
£34.95 / US$59.95 / CAN$59.95 / €44.95
Level: Postgraduate, Research / Professional, Undergraduate
Territory: World
Subject (BIC): KNSG Tourism Industry, 1D Europe, RP Regional and area planning