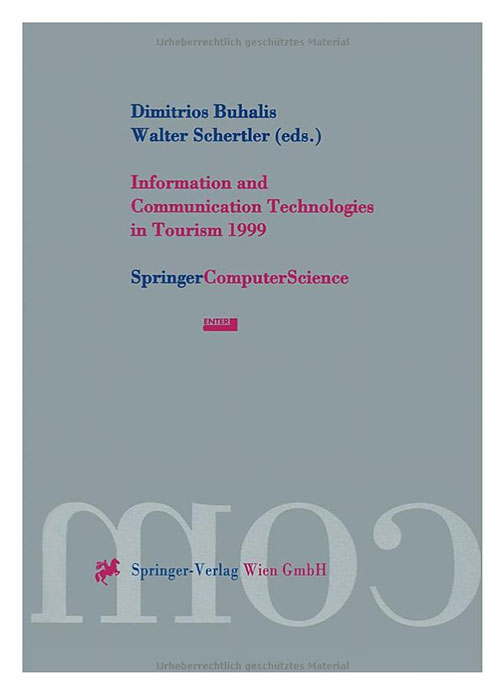 by buhalisadmin
Buhalis, D., and Schertler, W., 1999,Information and Communication Technologies in tourism, ENTER'99, Springer-Verlag, Wien-New York, ISBN3211832580.
Information and Communication Technologies in Tourism 1999
Proceedings of the International Conference in Innsbruck, Austria, 1999
Buhalis, Dimitrios; Schertler, Walter (Eds.) 1999, XII, 407 p. 66 illus., Softcover, ISBN: 978-3-211-83258-5
Within the last six years the conference ENTER (International Conference on Information and Communication Technologies in Tourism) united various experts – practitioners as well as researchers – to exchange their experiences, ideas and visions in the sector of tourism and information technology (IT). The proceedings of the conference provide an international platform to discuss the topical situation and future trends, and the possibilities to shape the own strategies. The following topics are treated in this year's volume: – knowledge management in tourism – changing consumer behaviour through information technology – using IT to support consumer choice and skills – engineering tourism applications – the empowerment of small and medium-sized enterprises through IT – using IT for hospitality management – using IT to redesign travel distributions and destination marketing systems and IT developments The emphasis of this year's contributions lies on the strategic components more than on the technical issues.
Content Level » Research
Keywords » Tourism – Tourism Information Systems – Tourismus -Tourismusinformationssysteme
Related subjects » Business Information Systems – Database Management & Information Retrieval – Information Systems and Applications
TABLE OF CONTENTS
Knowledge Management in Tourism
Tichler, G., Werthner, H., Grossman, W.: Using Data Mining in Analysing Local Tourism Patterns
Go, F., Govers, R., Heuvel, M.: Towards Interactive Tourism: Capitalising on Virtual and Physical Value Chains
Schertler, W., Berger-Koch, C.: Tourism as an Information Business: The Strategic Consequences of E-Commerce in Tourism for Business Travel
Robledo, M. A.: Database Marketing as a Source of Competitive Advantage for the Hotel Industry
Changing Consumer Behaviour through IT
Van der Pijl, J., Bartelink, H.: Printing on Demand as a New Channel for Tourist Information
Björk, P., Guss, T.: Internet as a Marketspace: The Perception of the Consumers
Dellaert, B. G. C.: The Tourist as Value Creator on the Internet
Curry, P., Alpert, F.: The Impact of the Internet on Consideration Sets: The Case of International Tourism Destinations
Beirne, E., Curry, P.: The Impact of the Internet on the Information Search Process and Tourism Decision Making
Jung, H.-S.: The Analysis of Demographic Profiles and Prospects of Internet Users in National Tourism Organisations: Case Study (Korean National Tourism Organisation)
Using IT to Support Consumer Choice and Skills
Pröll, B., Retschitzegger, W. , Wagner, R. R.: Holiday Packages on the Web
Jung, H.-S., Twigeri, A.: The Use of the Internet as a New Marketing Tool to Promote New Tourist Destinations in Asia: Case Study (Korean National Tourism Organisation)