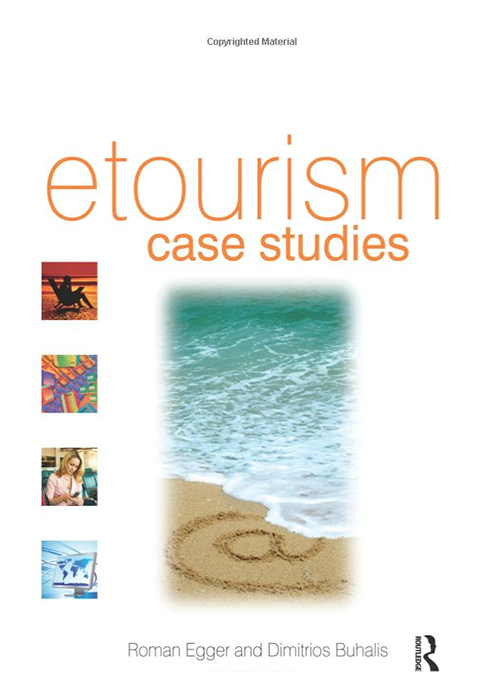 by
buhalisadmin
eTourism Case studies: Management & Marketing issues in eTourism
Roman Egger and Dimitrios Buhalis (editors), 2008, eTourism Case studies: Management & Marketing issues in eTourism, ISBN 0750686677, Butterworth Heinemann Oxford http://goo.gl/oavpD1
Roman Egger and Dimitrios Buhalis (editors), 2008, eTourism Case studies: Management & Marketing issues in eTourism, ISBN 0750686677,Butterworth Heinemann Oxford.
Edited By
Roman Egger, Program coordinator of the Centre of Future Research and lecturer in e-Tourism at the Salzberg University of Applied Sciences and at the University of Munich, Germany
Dimitrios Buhalis, Established Chair in Tourism, School of Services Management, Bournemouth University, UK
eTourism Case Studies bridges the gap in contemporary literature by carefully examining marketing and management issues of many international companies that have successfully implemented eTourism solutions. Divided into six sections this book explores the newest developments in this field, introducing and discussing emerging trends, approaches, models and paradigms, providing visions for the future of eTourism and supporting discussion and elaboration with the help of thorough pedagogic aids. With contributions from leading global experts both from the industry and academia, each case follows a rigid structure, with features such as bulleted summaries and review questions, as well as each section having its own thorough introduction and conclusion written by the editors, highlighting the key issues and theories. This is the first book of its kind to bring together cases highlighting best practice and methods for exploiting ICT in the tourism industry, from international market leaders.
Audience:
Primary: Final year undergraduate and post-graduate tourism and hospitality students on supplementary courses such as e-commerce for H&T industry, Internet stratetegies. Also student on generic business and management degrees at third year level. Secondary: Advanced professionals and research students undertaking research in the area.
CONTENT Introduction;Hospitality: InterContinental Hotel Group: Dealing with Online Intermediaries; InterContinental Hotel Group: Managing Inventory with HOLIDEX PLUS; Sino Group of Hotels: Handling multi property operations; Omena Hotels: Technology towards operational efficiency; Carnival City: Valuating Guests in the gaming Industry; Hotel Sallerhof: Innovations in Interaction; ?Emmantina? and ?Palmyra Beach? Hotels: Distribution for Independent Hotels; Intermediaries: Lastminute.com: From Reservation System to Lifestyle Portal; Expedia.de: Electronic Travel Supermarket; Wotif.com: Last minute selling of distressed accommodation inventory; A2Z Professional Travel Ltd.: Online Travel Agency in Thailand; ITWG: Increasing intermediated flows; Incoming Partners: Integrating operations; Orbis On Line: Internet distribution strategies for a regional hotel group; SideStep: Travel Meta Seach Engine; HolidayCheck: Rendering holiday impressions; TUI: Integrating Destination Information; Cultuzz: Managing eBay as a distribution channel; Amadeus: Evolution of GDS; Amadeus: Global Distribution System's new paradigm; Pegasus Solutions: Providing Interconnectivity; Destination; VisitBritain: Satisfying the online Market dynamics; Spain.info: Towards Stakeholder Network; BonjourQuebec.com: A Vision, a Strategy, a Brand; The Province of Rimini: Communicating with the customer; Tanzania: Extending eTourism Tools utilisation; Tiscover: Destination Management System Pioneer; Feratel Media Technologies: Providing DMS Technology; Transportation; British Airways: Customer enabled interactivity; Kulula.com: Low Cost Carrier & ICTs; Finnair: Innovating Interactivity; Enterprise Rent A Car: Mainstreaming Distribution; ICT Systems; eCTRL Solutions: Trip@dvice Technology; The Green Card (Targeta Verda): A tourist card for the Balearic Islands; CheckEffect: Benchmarking eMarketing performance; Destimation.com: online solutions for Destination Management Companies; Lufthansa Systems: Dynamic Pricing; TAI (Day Trip Indicator): Measuring Value added in the tourism sector; Tourism Technology: Travel Wholesale Management System; Digital Tourism Assistant: Enquiry Management Solution for Destinations; Mobile systems: Rivertale: Mobile Services for Cruise Ships; LOVO: The Mobile Lifestyle Assistant; Aladdin: A Mobile Destination Management Solution for Incoming Agencies; Conclusion
http://www.amazon.co.uk/dp/0750686677?tag=dimitbuhal-21&camp=1406&creative=6394&linkCode=as1&creativeASIN=0750686677&adid=0WGSQTJ8GDGXZ6M5BRX6&